Image Credit: Free Digital Photos
Like every other blogger, I have been using Google Images for Clip art, Images, and Photos for my blog even though I didn't want to. But recently I created a Lifestyle blog for a friend and advised her to use Flickr for images.
I was totally impressed by her image searching capability and decided to use Flickr for my blog as well. Again, the blogpost by Roni Loren titled "Blogger Beware: You CAN Get Sued For Using Photos You Don't Own on Your Blog" was a total eye-opener.
I read that article a couple of days back and got to action. Why? Because Roni said that we can get sued for using those clip-arts, stock images, and photos which we get from Google Images. I have often, like most of you, royally ignored the warning message from Google which says "Images may be subject to copyright." while previewing images.
So where can you get images from now? Use images with a Creative Commons License. Creative Commons Attribution License indicates that you're free to share, remix and make commercial use of the work as long as you give an attribution.
40 Websites For Free Stock Photos, Images & Clipart
I have collated over 40 high quality websites and image search engines from where we can download images for free and I've made sure that only the quality sites are listed here. I'm not including Royalty-free image websites as they're not really free and require a one time payment. Royalty free images are images that require a onetime payment and for which the user doesn't have to pay any additional fee each time they use it.
1. Flickr
Flickr (Photos with a Creative Commons) is the largest photo sharing platform owned by Yahoo! But you should know that not all images can be used on your website or blogs. Some may be copyrighted and others may have "some rights reserved". Search for photos and images with a Creative Commons Attribution License as they're free to share, copy, distribute, and make commercial use of the photos as long as you give an image credit.
Photo Pin
Flickr search results are tricky as the keywords that we usually enter on Google Images may fetch different results on Flickr. So you can also try Photo Pin, a free tool that helps bloggers and designers to find Creative Commons images from Flickr. Since Photo Pin uses Flickr API to search, the license terms are accurate and the attribution links are already formatted for you. Also try, Compfight.
2. Wikimedia Commons
Wikimedia hosts around 13 million freely usable media files to which anyone can contribute and is the largest free "images-only" repository. They don't own almost all of the content as it is owned by the individual creators. But it says all images hosted on Wikimedia Commons may be freely reused subject to certain restrictions. In most case you're not required to contact the licensor but some requires attribution and in most cases if you modify the work then it must also be freely licensed.
3. Microsoft Office Imagery
Microsoft Office Imagery offers royalty-free clip art, photos, illustrations, animations, sounds, borders, icons, backgrounds, and more for Microsoft Office products. You can search and download 1000s of high quality imageries for free.
4. 123RF
123RF have over 15 million royalty free stock photos but they also offers free images in their Free Image section. You can download and use those images up to 10,000 times after that you're required to purchase a license.
5. Stock.XCHNG
Stock.XCHNG is world's favorite free stock photography website. You can browse their collection of over 350,000 quality stock photos by more than 30,000 photographers. Stock.XCHNG's images are free to use In digital format on websites, multimedia presentations, magazines, newspapers, etc.
6. Clker
Clker is an online image sharing service where users can download (attribution required) and share free public domain vector clip art, or share public domain photos and derive vector clip art from those photos using clker's online tracer.
7. Free Digital Photos
Free Digital Photos have a huge collection of clip art, images, and photos. You can download and use all the images for free (attribution required) with an option to buy higher resolution images.
8. morgueFile
morgueFile offers free images for your inspiration, reference, and creative works – be it commercial or not! morgueFile's free license allows you to adapt the work or use the work for commercial purposes without attribution.
9. Pixabay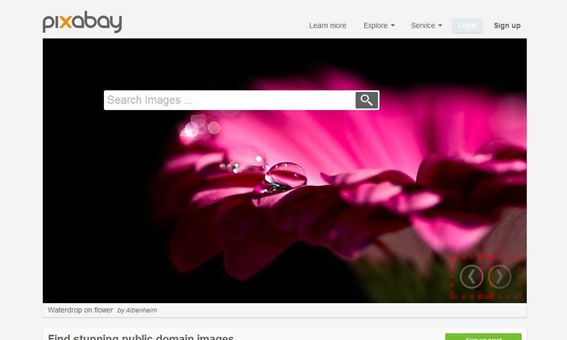 Pixabay is a repository for extraordinary high-quality public domain images. It says we can freely use any image from that website in digital and printed format for personal and commercial use without attribution to the original author. But it also says "Pixabay cannot be held responsible for any copyright violations, and cannot guarantee the legality of the Images stored in its system. If you want to make sure, always contact the photographers. You use the site and the photos at your own risk!"
10. Public Domain Pictures
Public Domain Pictures is a repository for free public domain images and you can download high quality photos or upload your own pictures. Most of the images require an attribution if you are going to redistribute the image online.
11. Every Stock Photo
Every Stock Photo is a license-specific photo search engine. They index and search millions of freely licensed photos, from many sources, and present them in an integrated search. It requires free registration to download large resolution images. Since it hosts images from other domains you need to check each image's license before you download them.
12. Stockvault
Stockvault offers free stock photos and Images for personal, educational and non-commercial usage. Stockvault FAQ says that we can't use those images to promote a product or a service but we're free to use the images on our blogs that has ads. You can't use those images on a company website or its blog that promotes their products and services.
13. Free Range Stock
Free Range Stock  offers high-quality, high- resolution free stock photos and free textures. All images are at least 2400 x 1600, and photos can be used for commercial or personal projects. They recommends attribution but you don't want to give photo credits then it can be used without any attribution.
14. Free Stock Photos
Free Stock Photos have a collection of over 16,000 free images available in a variety of commercial and editorial licenses, including public domain, creative commons, and custom agreements. You're not required to give an image credit unless the images are licensed with a Creative Commons Attribution license which requires an attribution.
15. Free Images Live
Free Images Live have a collection of images to choose from, easy-to-use cut and paste blog and forum codes. Images are free to use (even for commercial use) and have no watermarks but an attribution link or text credit is is required.
16. Stock Photos For Free
Stock Photos For Free have over 100,000 completely free stock photos from around the world! They have photos that cover almost all topics from exotic locales to talent-released people and everything in between. There is no fee to download any of their stock photos as they come with a royalty free royalty free license so you can use them your in commercial projects as well. You must have a registered account in order to download images.
17. Google Images
Google Image Search can also be used to find Creative Commons images. Earlier you had to use its Advanced Search to find creative commons images but now you can use the "Usage Rights" option under "Search tools" menu and filter the results by "labeled for reuse", "labeled for commercial reuse", "labeled for reuse with modification" or "labeled for commercial reuse with modification". However ensure that you verify the license of that image before putting them to use.
Since Google can't find whether the image license is legitimate or not, you should verify that the license shown in Google Image results is legitimate by visiting the actual web page. Also try, Creative Commons Search, Foter.
18. Getty Images
Getty Images is the world's largest photo agency, and few months back they made their 35 million photos free to use. So, now you can embed any of those premium stock photos for free. Just use the search box to find a stock photo and copy-paste embed code into your web page. You're done!
19. Little Visuals
Little Visuals delivers high quality photos to your email inbox every 7 days, and you can use them the way you want. Also try, Unsplash, AuthenticSnaps, iStock Lightbox.
20. Kaboompics
Kaboompics offers hundreds of free high quality photos for personal and commercial usage. You can use the search box or browse photos by category. Also try, IM Creator, Raumrot, Public Domain Archive, PicJumbo, Gratisography, SplitShire — for real life pictures.
Even More Websites For Free Stock Photos & Images
BONUS: Free Image Tools
Sometimes, stock photos may not be relevant or we may have to edit it to make the image more attractive. Here is a list of some free image editing tools and resources that you can use to enhance an existing image, or to create new awesome images by yourself — for your next blog post or social media update.
Don't Miss: Over 101 Social Media Tools (Free & Premium) You'll Ever Need
Conclusion
As you probably know, we can use a variety of images — stock photos, photographs, screenshots, animations, internet memes, infographics, charts, etc. — in a blog post.
But if you want to leverage social media (especially Pinterest) then you have to create images by yourself (even if it's adapted), or use animated images. And if all you need is an image that's relevant to your content then try any of the above free stock photo services.
So, which is your favorite source for images?
First Published: 2012; Last Updated: December, 2014