First Published: July 24, 2009; Last Updated: Thursday, March 4, 2021.
Google may be a synonym for search, but it's not restricted to that feature alone. If you are not a tech-savvy person then chances are that you are unaware about majority of Google's products and services.
Anyway, how many Google products and services do you use? The common answers will be Gmail, Google Drive, Google Maps, Google Chrome, YouTube, or an Android. But Google is well beyond that.
Over 3 billion Google Searches per day. Over 1 billion YouTube users. Over 1 billion Gmail users. Over 1 billion Chrome users. Over 1 billion Maps users. Over 1 billion Google Photos users. Over 2 billion Android users. Over 1 billion Google Play Store users. Over $1 trillion market capitalization. That's the stats of Google.
Don't Miss: Over 101 Microsoft Products, Services, & Apps You Probably Don't Know
What are the Top 10 Google Products & Services?
If you check Alexa traffic stats of Google.com then you can see that the 10 most popular Google products are Google Search, Mail, Docs, Plus, Drive, Translate, Maps, AdWords, Play Store, and Google News. However, Google is so much beyond that.

Where do visitors go on Google.com? (According to Alexa.com)
Google Products & Services That I Use
Here is a list of all Google products, services, and tools that I'm using. To see a snapshot of the Google products you use go to Google Dashboard which lists some of the top Google products and services that you have signed up for and it also shows what Google knows about you.
Google Products, Services & Tools: The Complete List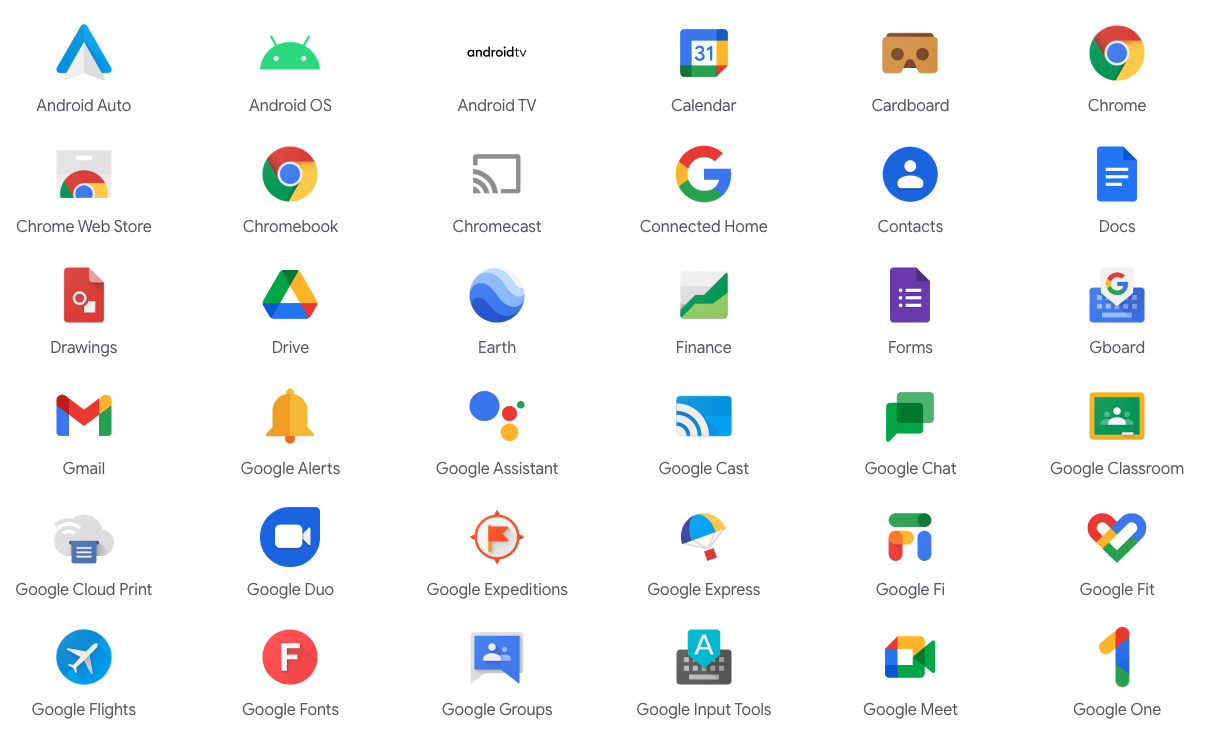 Now I'm going to list over 251 Google products and services that I know of or tried in some way or the other. If you haven't tried any of them then I really suggest you check them out and see if it can make your life easier, better, and more productive.
I'm fairly sure that even the Googlers (people who work at Google) won't be able to list the following number of Google services. In fact, even Google's own products page is not listing all their products.
Google Search & Its features — Google search is the most popular search engine on the Web.
AdMob — Monetize and promote your mobile apps with ads.
Android — Android is a software stack for mobile devices that includes an operating system , middleware and key applications.
Android Auto — The right information for the road ahead.
Android Messages — Text on your computer with Messages for web.
Android Pay — The simple and secure way to pay with your Android phone.
Android TV — Android TV delivers a world of content, apps and games to your living room.
Android Wear — Android Wear smartwatches let you track your fitness, glance at alerts & messages, and ask Google for help — right on your wrist.
Blogger — A free blog publishing tool for easy sharing of your thoughts with the world.
Dartr — Dartr is a brand new programming language developed by Google.
DoubleClick — An ad technology foundation to create, transact, and manage digital advertising for the world's buyers, creators and sellers.
Google.org — Develops technologies to help address global challenges and supports innovative partners through grants, investments and in-kind resources.
Google Aardvark* — A social search engine where people answer each other's questions.
Google About me — Control what people see about you.
Google Account Activity — Get a monthly summary of your account activity across many Google products.
Google Ad Planner — A free media planning tool that can help you identify websites your audience is likely to visit so you can make better-informed advertising decisions.
Google AdSense — Place contextual Google ads on your site – and earn money.
Google AdWords (now known as Google Ads) — Advertise online and pay only when people click on your ad.
Google Affiliate Network* — Full-service online marketing company specializing in pay-for-performance media.
Google Alerts — Google Alerts are email updates of the latest relevant Google results (web, news, etc.) based on your choice of query or topic.
Google Allo — Allo is a messaging app that makes conversations easier, more productive, and more expressive.
Google Analytics (Urchin) — Google Analytics makes it easy to improve your results online. Also check out, Google Analytics Premium.
Google Answers* — Answers allows users to get help from researchers with expertise in online searching.
Google Apps (Now, G Suite) — Software-as-a-service for business email, information sharing and security.
Google App Engine — Run your web applications on Google's infrastructure.
Google Assistant — Your own personal Google. Ask it questions. Tell it to do things. It's your own personal Google, always ready to help.
Google Base — Google Base is a place where you can easily submit all types of online and offline content.
Google Blog Search — Blog Search is Google search technology focused on blogs.
Google Body (Now, Zygote Body) – Google Body is a detailed 3D model of the human body.
Google Bookmarks — Google Bookmarks is an online service that lets you save your favorite sites and attach labels and comments. Also check out, Bookmark Manager.
Google Book — Search and preview millions of books from libraries and publishers worldwide.
Google Books Ngram Viewer — Visualize the rise and fall of particular keywords across 5 million books and 500 years.
Google Browser Size — Simple visual tool to show what percentage of web users can see different areas of a website without needing to scroll.
Google Buzz* — Start conversations about the things you find interesting. Share updates, photos , videos and more with your friends.
Google Calendar — Keep track of all your life's important events – birthdays, reunions, little league games, doctor's appointments — all in one place.
Google Cardboard — Experience virtual reality in a simple, fun, and affordable way.
Google Cars — A search engine to get quotes for Cars.
Google Chat — helps teams and businesses collaborate fluidly and efficiently from anywhere.
Google Checkout — Buy from stores across the web and track all your orders and shipping in one place.
Google Chrome — A browser that combines a minimal design with sophisticated technology to make the web faster, safer, and easier.
Google Chromecast — Cast your favorite entertainment from your phone or tablet straight to the TV.
Google Chrome Sync — It's a Google Tool that Syncs your Google Chrome bookmarks across multiple computers.
Google Chromebook — A computer from Google, designed to help you get things done faster and easier. Also check out, Chromebox.
Google Chromebook Pixel — It's a laptop that brings together the best in hardware, software, and design to inspire future innovation.
Google Chromium — The Chromium projects include Chromium and Chromium OS, the open-source projects behind the Google Chrome browser and Google Chrome OS, respectively.
Google Classroom — Designed hand-in-hand with teachers to help them save time, keep classes organized, and improve communication with students.
Google Cloud — Enables developers to build, test and deploy applications on Google's highly-scalable and reliable infrastructure.
Google Cloud Search— The best of Google Search for your company.
Google Cloud Print — Google Cloud Print is a new technology that connects your printers to the web.
Google Code — Code is for external developers interested in Google related development.
Google Contacts — Similar to an online address book, the Contact Manager gives you easy access to the people you want to reach.
Google Contact Lens — A smart contact lens project by Google.
Google Contributor — An experiment in additional ways to fund the web.
Google Correlate — Find search patterns that correlate with real-world data.
Google Creative Lab 5 — Google's hunt for fresh talent.
Google Cultural Institute — Cultural Institute brings together millions of artifacts from multiple partners, with the stories that bring them to life, in a virtual museum.
Google Currents — Share ideas with employees and gather input through meaningful, focused discussions on topics that matter to your organization.
Google Custom Search Engine & Google Subscribed Links — With Google Custom Search Engine and Subscribed Links, you can create a search engine tailored to your needs that lets you create custom search results which users can add to their Google search pages.
Google Dashboard — Google Dashboard offers a simple view into the data associated with your Google Account.
Google Data Studio — Unlock the power of your data with interactive dashboards and beautiful reports that inspire smarter business decisions.
Google Daydream — Daydream takes you on incredible adventures in virtual reality.
Google Design — Explore Google's design guidelines.
Google Desktop* — Search your computer as easily as you search the web with Google.
Google Developers — To inspire developers everywhere.
Google Dictionary — Free online dictionary.
Google Digital Garage — Free tutorials from Google on everything from your website to online marketing and beyond.
Google Directory — The web organized by topic into categories.
Google Display Network — Makes advertising on websites to promote your business, easy and effective.
Google Docs — Create a new document and edit with others at the same time — from your computer, phone or tablet.
Google Domains — Buy or transfer a domain name, build a site and get online with Google Domains.
Google Drive — Get 5 GB of Cloud Storage for Free.
Google Duo — Get closer to everyone you love with simple, high-quality video calling on iOS and Android.
Google Duplex — An AI system for accomplishing real-world tasks over the phone.
Google Earth & Google Mars — Offers maps and satellite images for complex or pinpointed regional searches.
Google Earth VR — Experience the wonder of Google Earth in virtual reality.
Google Expeditions — Imagine exploring coral reefs or the surface of Mars in an afternoon. With Expeditions, teachers can take students on immersive, virtual journeys.
Google Express — Google Express is an online marketplace that connects shoppers with popular retailers.
Google Fast Flip* — Read news fast.
Google FeedBurner — Allows bloggers and podcasters to manage their RSS feeds.
Google Fi — Project Fi is a mobile virtual network operator owned by Google, providing wireless phone and data services using Wi-Fi and cellular networks belonging to Sprint, T-Mobile, U.S. Cellular, and Three.
Google Fiber — Google Fiber is a broadband internet network that starts with a connection speed 100 times faster than today's broadband.
Google Finance — Offers a broad range of information about stocks, mutual funds, and companies.
Google Firebase — Firebase is Google's mobile platform that helps you quickly develop high-quality apps and grow your business.
Google Fit — An open platform that lets users control their fitness data.
Google Flights — Choose your flight from a simple list of results, explore destinations on a map, and find travel dates with the lowest fare with Google Flight Search.
Google Fonts — Google Fonts (previously called Google Web Fonts) is an interactive directory of hosted open-source fonts optimized for the web.
Google Forms — Create a new survey on your own or with others at the same time.
Google Fuchsia — Fuchsia is an operating system currently being developed by Google.
Google Fusion Tables — Gather, visualize and share your data online.
Google Friend Connect* — Instantly awakens and strengthens the community that visits your site by enriching it with social features.
Google Gboard — Gboard is a virtual keyboard app developed by Google for Android and iOS devices.
Google Gears — A Firefox and Internet Explorer extension that allows to navigate on compatible websites offline and synchronize when going back online.
Google Glass — Google's Project Glass is a research and development program by Google to develop an augmented reality head-mounted display (HMD).
Google Go — Go is an expressive, concurrent, garbage-collected programming language.
Google Grants — In-kind advertising for non-profit organizations.
Grasshopper — Grasshopper is the coding app for beginners. With fun, quick lessons on your phone, the app teaches adult learners to write real JavaScript.
Google Groups — Where groups of people have discussions about common interests.
Google Hangouts — Hangouts bring your conversations to life with photos, emoji, and group video calls for free.
Google Hangouts Chat — A messaging platform built for teams.
Google Hangouts Meet — Video meetings for your business.
Google Helpouts — Connects people who need help with people who can give help over live video.
Google Health* — Puts you in charge of your health information.
Google Hire — A recruiting app that helps distribute jobs, identify and attract candidates, build strong relationships, and efficiently manage the interview process.
Google History — Your web history is stored on Google servers, which means that you can view and manage it from any computer.
Google Home — Google Home is a powerful speaker and voice Assistant. Play your music. Call your friends. Ask it questions. Control your home. It's your own Google, always ready to help.
Google Home Mini — Google Home Mini is Google Assistant anywhere you want it. Ask it questions. Tell it to do things. It's your own Google, always ready to help.
Google Hotel Finder — Browse hotel photo galleries, read visitor reviews, and discover the popular areas of the city with Google Hotel Finder.
Google Ideas (Now, Jigsaw) — Google Ideas connect users, experts and engineers to conduct research and seed new technology-driven initiatives.
Google Image Search & Similar Images — The most comprehensive image search on the web. Google Search Images allows you to search for images using pictures rather than words.
Google Inbox — Inbox by Gmail is a new app from the Gmail team for Android, iOS, and Google Chrome. Inbox is an organized place to get things done and get back to what matters.
Google In Quotes — Allows you to find quotes from stories linked to Google News.
Google Input Tools — Input Tools makes it easy to type in the language you choose, anywhere on the web.
Google Jamboard — Jamboard is an interactive whiteboard developed by Google, as part of the G Suite family.
Google Jump  — Jump is Google's professional VR video solution. Jump makes 3D-360 video production at scale possible with best-in-class automated stitching.
Google Keep — Quickly create, access and organize your notes, lists and photos with Keep.
Google Knol* — Knol makes it free and easy to create, collaborate on, and publish credible web content.
Google Latitude — See where your friends are on a map.
Google Lens — Real-time answers to questions about the world around you.
Google Lively* — A web-based virtual environment by Google.
Google Local Business Center — If you are a business owner Claim your business listing today and let customers find you online!
Google Loon — Loon is a network of balloons traveling on the edge of space, designed to connect people in rural and remote areas, help fill coverage gaps, and bring people back online after disasters.
Google Mail (Gmail) — Gmail is a new kind of webmail, built on the idea that email can be more intuitive, efficient, and useful.
Google Maps & Google Map Maker — Find local businesses, view maps and get driving directions. With Map Maker you can edit the map in more than a hundred countries and watch your edits go into Google Maps.
Google Maps Smarty Pins — A Google Maps based geography and trivia game.
Google Marketing Platform — A unified advertising and analytics platform for smarter marketing and better results.
Google Mars — Provides a visible imagery view, like Google Moon, as well as infrared imagery and shaded relief (elevation) of the planet Mars.
Google Meet — Real-time meetings — using your browser, share your video, desktop, and presentations with teammates and customers.
Google Mobile — Upgrade your phone with free Google products.
Google Moderator — A tool that allows distributed communities to submit and vote on questions for talks, presentations and events.
Google Moon — See the Moon in 3D.
Google Music — Upload your personal music collection and access it instantly on the web or any compatible device without the hassle of wires or syncing.
Google Music Timeline — Music Timeline shows genres of music waxing and waning, based on how many Google Play Music users have an artist or album in their music library, and other data (such as album release dates).
Google My Business — Connects you directly with customers, whether they're looking for you on Search, Maps or Google+.
Google Nest — Discover connected home devices from Nest – thermostats, indoor and outdoor security cameras, smoke and carbon monoxide alarm, security system, video doorbell and more.
Google News, News Archive Search & Google News Timeline — Aggregated headlines and a search engine of many of the world's news sources. News archive search provides an easy way to search and explore historical archives. News Timeline is a web application that organizes information chronologically.
Google News Lab — The News Lab is Google's effort to collaborate with journalists and entrepreneurs to build the future of media.
Google Nexus — Smartphones and tablets from Google.
Google Nexus Player — A console designed to fit beautifully alongside your current home entertainment setup.
Google Nik Collection — Create stunning images faster.
Google Notebook* (SearchWiki*) — With Google Notebook, you can browse, clip, and organize information from across the web in a single online location that's accessible from any computer.
Google Now — An intelligent personal assistant by Google.
Google Offers — Get amazing deals at the best places to eat, shop, and play.
Google One — Get expanded cloud storage, access to help from Google experts, and more benefits — in one simple plan that you can share with your family.
Google One Pass* — A service that lets publishers set their own prices and terms for their digital content.
Google One Today — One Today makes it easy to donate to the causes that inspire you, while letting nonprofits raise the funds they need to make the world better.
Google OnHub — A new router from Google that's built for all the ways you Wi-Fi.
Google Optimize — Make a great impression on each and every visitor. Easily run tests on your website — for free — so it works better for your customers and your business.
Google Pack* — Google Pack is a collection of software tools offered by Google to download in a single archive.
Google PageSpeed Insights — Page Speed Online analyzes the content of a web page, then generates suggestions to make that page faster.
Google PageSpeed Service — PageSpeed Service makes web pages load faster for your users.
Google Patents — Search the full text of the U.S. patent corpus and find patents that interest you.
Google Pay — Google's new digital payment app (originally made for India as Google Tez).
Google Person Finder — Google Person Finder by Google.org helps people reconnect with friends and loved ones in the aftermath of natural and humanitarian disasters.
Google Photos — Google Photos is the home for all your photos and videos. Automatically organized and searchable, you can find photos fast and bring them to life.
Google Pixel — Android devices designed and built from start to finish by Google.
Google Play — Google's digital application distribution platform for Android and an online electronics and digital media store.
Google Play Movies — Find the newest movies and TV shows to buy or rent.
Google Play Music — Makes it easy to discover, play and share the music you love on Android and the web.
Google Play Newsstand — Discover more of the news and magazines you care about on your Android tablet or phone.
Google Play Protect — Google Play Protect is Google's built-in malware protection for Android. Backed by the strength of Google's machine learning algorithms, it is always improving in real time.
Google Plus — Google+ aims to make sharing on the web more like sharing in real life. Also check out, Google+ Stories & Movies.
Google Podcasts — Google Podcasts is a new way for Android users to discover and listen to the world's podcasts.
Google Postini — Google email security and archiving services, powered by Postini, make your existing email system more secure and compliant.
Google PowerMeter — Save Energy. Save Money. Make a Difference.
Google Primer — Primer is a fast, easy way to learn new business and digital marketing skills.
Google Product Search (Froogle) — Presents photographs of products and links to the stores that sell them online.
Google Profiles — Decide what the world sees when it searches for you. Display the information you care about and make it easy for visitors to get to know you.
Google Public Data Explorer — Makes large datasets easy to explore, visualize and communicate.
Google Public DNS — Google Public DNS is a free, global Domain Name System (DNS) resolution service, that you can use as an alternative to your current DNS provider.
Google Reader* — Web based feed reader to keep up with blogs and news.
Google Related — Google Related is a Chrome Extension that shows you useful, interesting content while you browse the web.
Google Safe Browsing — Check URLs against Google's constantly updated lists of suspected phishing and malware pages.
Google Scholar — Provides a search of scholarly literature across many disciplines and sources, including theses, books, abstracts and articles.
Google Scribe — Google Scribe helps you write better documents.
Google Script Converter — Convert text or a webpage.
Google Self-driving Car — Google Driverless Car is a project that involves developing technology for autonomous cars.
Google Sets* — Automatically create sets of items from a few examples.
Google Sheets — Create a new spreadsheet and edit with others at the same time — from your computer, phone or tablet.
Google Sites — Google Sites is a free and easy way to create and share web pages.
Google SketchUp — Create, modify and share 3D models. Also check out, 3D Warehouse.
Google Skillshop — Develop skills you can apply right away, with e-learning courses designed by Google product experts.
Google Sky — Google Sky includes a number of different ways to explore the universe.
Google Slides — Create a new presentation and edit with others at the same time — from your computer, phone or tablet.
Google Smart Lock — Lets you to get right down to work (or play) without needing to remember passwords and security codes.
Google Spaces — Instant groups for everything in life.
Google Spotlight Stories — Google Spotlight Stories means storytelling for VR.
Google Squared — Takes a category and creates a starter 'square' of information, automatically fetching and organizing facts from across the web.
Google Station — Google's free, fast public Wi-Fi.
Google Street View — Explore the world at street level.
Google Store — Official Google Accessories, Apparel Items, Software, Office Equipment.
Google Subscribed Links — Subscribed Links let you create custom search results that users can add to their Google search pages.
Google Suggest — As you type your search, Google offers keyword suggestions in real time.
Google Sunroof — Sunroof is a solar calculator from Google that helps you map your roof's solar savings potential.
Google Surveys — Market research that's fast and accurate.
Google Sync — Synchronize your mail, calendar and contacts.
Google Tag Manager — It lets you add and update your website tags, easily and for free, whenever you want, without bugging the IT folks.
Google Takeout — Google Takeout allows you to download a copy of your data stored within Google products.
Google Talk* — Chat with family and friends over the Internet for free.
Google Tango — Tango lets you see more of your world.
Google Tasks — Keep track of what you need to do. Your task list stays up to date no matter how you access it. It's a simple list that's with you everywhere you go.
Google Think — It's Google's source for insights, trends and research in digital marketing.
Google Tilt Brush — Tilt Brush lets you paint in 3D space with virtual reality.
Google Toolbar — Internet Explorer and Firefox Toolbar with Google search.
Google Tour Creator — Tour Creator makes it easy to build immersive, 360 tours right from your computer.
Google Transit — Plan a trip using public transportation.
Google Transliteration — Google Transliteration allows you to type phonetically using Roman characters.
Google Translate — Free online language translation service instantly translates text and web pages.
Google Transparency Report — Shares data that sheds light on how the policies and actions of governments and corporations affect privacy, security, and access to information.
Google Travel (previously Google Trips) — Instantly plan and organize your trips, automatically discover new sights, and effortlessly track your travel info.
Google Trends & Google Insights for Search — Compare the world's interest in your favorite topics. Use Google Insights for Search and see for yourself what the world is searching for.
Google TV — Google TV is a new experience that combines TV, the entire web, and apps — as well as a way to search across them all. Take a tour, learn how it works, and find out how to get it.
Google URL Shortener — Google URL Shortener at goo.gl is used by Google products to create short URLs that can be easily shared, tweeted, or emailed to friends.
Google Vault — Use Google Vault to manage, retain, search and export your company email, on-the-record chats, and Google Drive file content.
Google Ventures — Venture Capital – by Google.
Google Video — Search and watch millions of videos indexed from all over the web.
Google Voice — Google Voice gives you one number for all your phones, voicemail as easy as email, free US long distance, low rates on international calls, and more. Tip: The first minute of calls to phone numbers in twenty-five different countries is now free with Hangouts.
Google VR — Virtual Reality for everyone.
Google Wallet — Save time and money by shopping with Google Wallet — a smart, virtual wallet that stores your payment cards, offers, and more on your phone and online.
Google Wave* — Google Wave is a new online communication and collaboration tool.
Google Web Designer — Create engaging, interactive HTML5-based designs and motion graphics that can run on any device.
Google Web Accelerator — Google Web Accelerator works with your browser to help web pages show up in a snap.
Google Web Elements — Google Web Elements allow you to easily add your favorite Google products to your website.
Google Web Fonts — Get hundreds of free, open-source fonts optimized for the web (hosted on Google Server).
Google Web Toolkit — Open source set of tools for building and optimizing complex browser-based applications.
Google Webmaster Tools — Provides you with detailed reports about your pages' visibility on Google.
Google Website Optimizer — Website Optimizer, Google's free website testing and optimization tool, allows you to increase the value of your existing websites and traffic without spending a cent.
Google WiFi — Google WiFi is a free wireless Internet service that Google is offering to the city of Mountain View.
Google Workspace (formerly G Suite) — A collection of cloud computing, productivity and collaboration tools, software and products.
Google X — X is a semi-secret research and development facility founded by Google.
Grasshopper — With fun, quick lessons on your phone, the app teaches adult learners to write real JavaScript.
GYBO (Get Your Business Online with Google) — Get an easy-to-build professional website, a customized domain name, and web hosting — all free for one year.
Cameos — Cameos on Google lets you be the authority on you. Record video answers to the most asked questions on Google and then post them right to Google. Now, when people search for you, they'll get answers directly from you.
Constitute — To read, search, and compare the world's constitutions!
Fabby (iOS) & Android — Get a new look for your selfie each time you tap through a collection of more than 2 billion designer styles. Select from hundreds of masks, backgrounds, makeup designs, and other creative effects.
Fitbit — Helps you stay motivated and improve your health by tracking your activity, exercise, food, weight and sleep.
Flutter — Flutter is Google's mobile app SDK for crafting high-quality native interfaces on iOS and Android in record time.
iGoogle* — Your personalized Google home page.
Jaiku* — Create your own microblog and connect with your friends.
Motion Stills — Motion Stills is an app from Google Research that uses advanced stabilization and rendering to turn your Live Photos and videos into GIFs that loop forever or edit them together into epic movies.
Navlekha — Navlekha, a Google initiative, helps you easily make offline content fully editable and publish online without expert digital knowledge.
Neighbourly (Android only) — Your neighbourhood questions, answered.
Notable Women — Notable Women is an AR Experiment that lets anyone see 100 historic American women where they've historically been left out: U.S. currency.
Orkut* — Social networking site designed to make your social life more active and stimulating.
Panoramio — A geolocation-oriented photo sharing website.
Picasa — Helps you organize, edit, and share your photos.
PhotoScan — Photos from the past, meet scanner from the future. Scan and save your favorite printed photos with the PhotoScan app from Google Photos.
Quick, Draw! — Draw a picture of an object or idea and Google uses a neural network artificial intelligence to guess what the drawings represent.
reCAPTCHA — A captcha system that uses successful decodings to helps digitise books for online use.
Schemer — Schemer lets you discover new things to do, share schemes with friends, and make the most of your day.
Scrubbies (iOS only) — Scrubbies lets you easily manipulate the speed and direction of video playback to produce amazing video loops that highlight actions, capture funny faces, and replay moments.
Selfissimo! (iOS, Android) — is an automated selfie photographer that snaps a stylish black and white photo each time you pose.
Snapseed — A photo-editing app for iOS and Android.
Storyboard (Android only) — Storyboard transforms your videos into single-page comic layouts, entirely on device.
Textcube — Korean blogging platform.
The Physical Web — An approach to unleash the core superpower of the web: interaction on demand.
Think with Google — Google's source for insights, trends and research in digital marketing.
VirusTotal — VirusTotal is a free service that analyzes suspicious files and URLs and facilitates the quick detection of viruses, worms, trojans, and all kinds of malware.
Waze — It is the world's largest community based traffic and navigation app. You can join other drivers in your area who share real-time traffic and road info, saving everyone time and gas money on their daily commute.
Wear OS — Wear OS by Google smartwatches help you get more out of your time. Fitness tracking, messaging, help from your Google Assistant and more all from the convenience of your wrist.
WebP — A new open-source image format by Google that provides 30% better image compression.
WebPageTest — WebPageTest.org is an open source project developed and supported by Google to test a website's performance.
WebRTC — An open source project that enables web browsers with Real-Time Communications (RTC) capabilities.
What Do You Love (WDYL) — Search numerous Google products with one click.
Wildfire — Wildfire is a social media marketing software that provides easy-to-use social media tools for pages, messages, ads, promotions, monitoring, analytics, etc.
YouTube — Share your videos with friends, family, and the world
YouTube Gaming — Connect to a world of gamers with the broadest mix of games, videos, and live streams all in one place.
YouTube Kids —  A safer online experience for kids.
YouTube Music — A music streaming website and app available for iOS and Android.
YouTube Red — With a YouTube Red membership, watch YouTube ad-free, save videos offline, and play videos in the background.
YouTube Studio — Manage your channel with Creator Studio.
YouTube TV — Stream live TV channels and record without DVR storage space limits.
Zagat — Find reviews on the hottest restaurants, make reservations and see full menus.
Zync Render — Render your next project on Google's cloud infrastructure using the creative tools you already know.
*Discontinued
Don't Miss: Over 81 Amazon Products & Services You Probably Don't Know
Closing Thoughts
It's no secret that Google dominated the web post the dot-com bubble. And it was becoming more and and more popular when several other big dot-com companies were struggling (including the Yahoos and the AOLs of the web).
Google never had to look back as it enjoyed a monopoly in the search engine market (just like Microsoft monopolized the operating systems market in the 1990s and 2000s).
The best thing about Google (from the user point of view) is that they launched a ton of other products & services (apart from a search engine) and gave away all of them for free. Because they were able to subsidize all its cost via their highly profitable advertising business.
When Google started launching more and more web products I was super-excited as I saw myself using almost all of them. And that's what inspired me to publish this listicle.
Please share with me any other interesting Google product/service or even a handy tool that's not listed here so that I can add it to the list above.
So, how many Google products and services are you using?
Happy Googling! 🙂